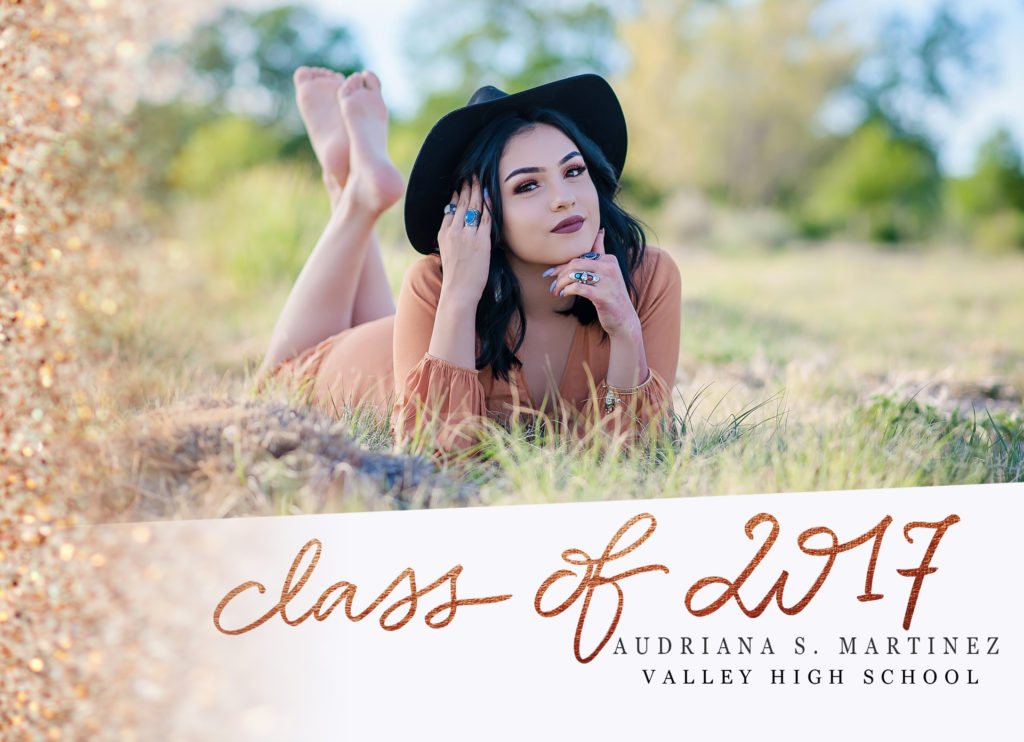 Meet one of our 2017 #AMPitupSENIORS Audriana!!She graduated this May from Valley High School, and will be attending the University of New Mexico…She plans to obtain a degree in Psychology & Sociology…Audriana was the varsity baseball teams manager, so you can imagine how busy she was since they had such a great season…Not only is she drop dead gorgeous, she is a well educated as well!!! She managed to maintain a 4.0 her last semester at Valley High School while holding down a full time job & managing the varsity baseball team..Boy oh boy is she one ambitious young lady and we are so proud of her and all of her achievements…When she has some free time on her hands, Audriana loves to read and play around with makeup… We can see why she is such an educated young lady…Reading really does keeps the brain in shape!!!
Audriana's session took place at Bachechi Open Space…She chose this location because of it's beautiful green trees and the open fields…Her outfits were inspired by Stevie Nicks and the whole Woodstock vibe…We absolutely loved seeing how she accessorized each outfit from her rings to her earring's…Oh my gosh, and her hat was the icing on the cake!!! It really really pulled her first outfit together… I think she totally nailed it for sure, as we were able to capture her artistic style and unique personality!!!
The advice that Audriana would like to leave to all of you future #AMPitupSENIORS is to stay organized before and during your session, bring drinking water to your session because you will get thirsty, and to stay open minded… She said and I quote "Athena, will make sure to take the best pictures and give you the best results"…I could not agree more with Audriana… My job is to get you in as many different poses as possible, so that you have a variety of images to choose from…You may feel awkward or unnatural, but I promise that I would never make you pose in an unflattering position…My goal is to make you look your best at all times!!So that when you get your images, you are 100% happy with them…
Audriana's Testimony: Athena was awesome to work with. She wants the best for you ,and that's makes you feel comfortable and confident with her. Her results really did amaze me. She made me so happy that I chose her to capture my senior year.
If you are inspired by this session and would like to book with AMP please contact us today and become our next #AMPitupSENIOR!!!